2022-11-01
A New Agora Alliance Hotel - "ONE@Tokyo" supervised by Kengo Kuma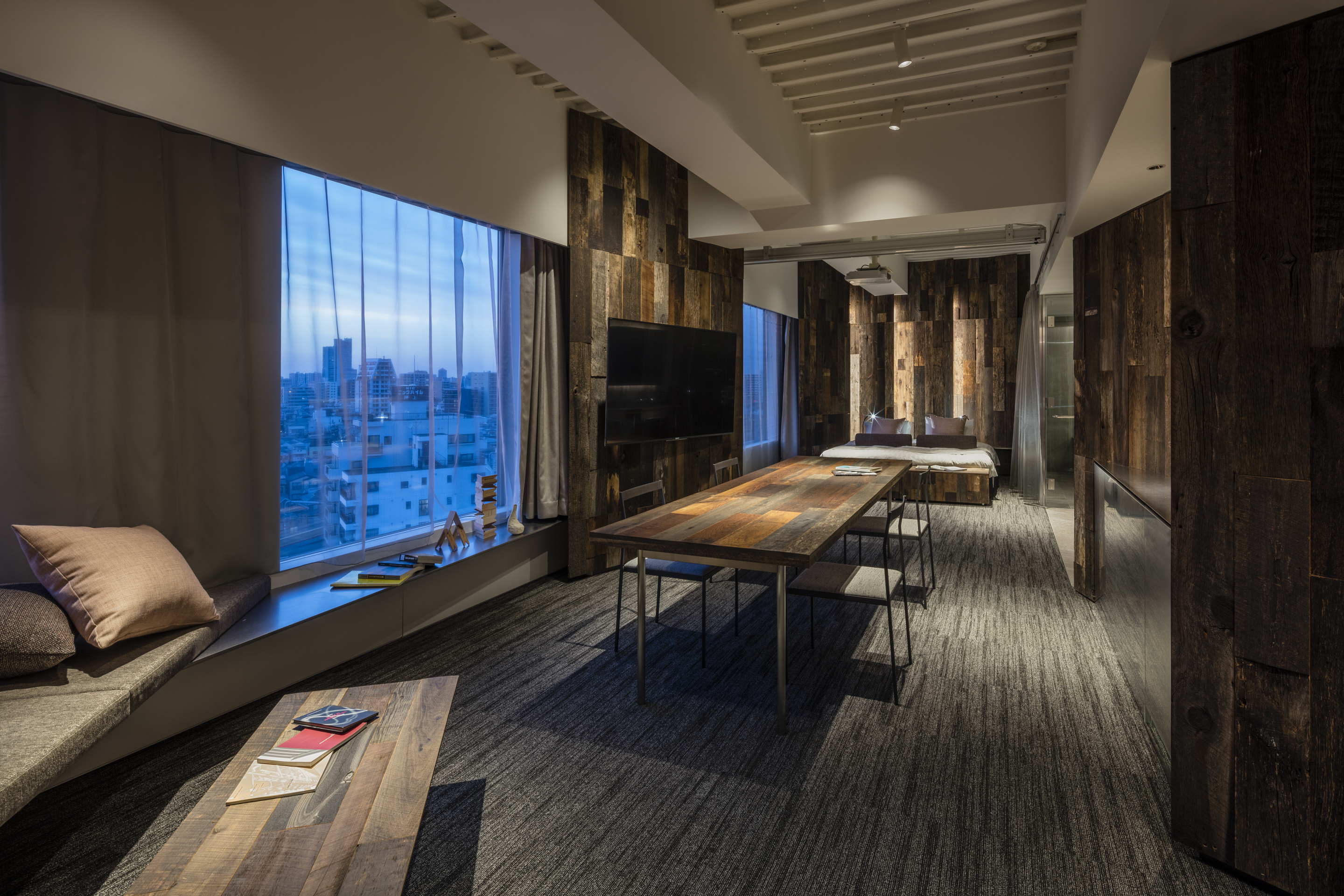 Today, Agora Hospitalities Co., Ltd. is delighted to announce the opening of "ONE@Tokyo" (1-19-3 Oshiage, Sumida-ku, Tokyo Japan), a contemporary hotel with the concept of an innovative downtown (Shitamachi) area in Tokyo. The ONE@Tokyo is the 4th. Agora Alliance Hotel, and is very conveniently located on the east side of the 23 wards in Tokyo, where the nostalgic atmosphere of the Edo period remains with a traditional downtown feel. Creating a diversified community to gather and meet, we provide tourists with an amazing experience of freestyle travel.
■ Comfort and location combining architectural beauty and functionality.
In suites inspired by an artist's atelier and casual contemporary rooms, the most updated and unique in-room tablets are installed in all 142 guestrooms. Its 2.45m high room ceilings bring spaciousness. The hotel is ideally located for both business and leisure travelers, just a 3-minute walk from Oshiage Station, famous for the Tokyo Skytree, a major sightseeing spot in Tokyo. It benefits from easy access to the entrance to Japan - the Haneda and the Narita Airports, and stations on four railway lines, being convenient for both tourists and locals alike. The exterior and interior were designed by world-renowned architect Kengo Kuma, combining traditional wood framing with industrial imagery to create a contrast.
Hiroshi Aso, Director & Executive Vice President of Agora Hospitality Group, Anthony Fung and Gregory Fung, Director of Sky Hospitality, Kin-man Tsin, Managing Director of Cheshunt Limited, and Hirotake Kunida, General Manager of ONE@Tokyo, were present at the ribbon-cutting ceremony. To celebrate the grand opening, an opening campaign will be running at the 10 Agora Hotel Alliance facilities, offering an original eco-bag and an original wooden ballpoint pen to all guests who stay at the hotel before the end of January 2023. In the future, the hotel will be the starting point to respond to consumers' expectations and seek the connection with the local community as a free travel proposition, with a focus on the tourists and the locals. 
<Message>
◆ Agora Hospitality Group
President & Chief Executive Officer KWOK GARY YAN KUEN
ONE@Tokyo is an extremely exciting hotel for curious travelers. We are delighted to welcome a new brand of hospitality to our alliance. We look forward to welcoming all sorts of guests to our hotel while the borders are opening, and we wish to propose a way to travel freely to discover 'a Beautiful Japan'. Japan is one of the most beautiful countries in Asia, and our purpose is to provide an unrivalled experience in this market.
◆ Agora Hospitality Group
Director & Chief Operating Officer MASAMI EGAMI
The fourth Agora Alliance Hotel in Tokyo, acquiring the unique hotel, definitely adds a distinctive value to Agora Hospitalities as its entire portfolio. We are also sure that ONE@Tokyo will offer a cutting-edge service in terms of not only design and concept, but a personal touch, which will be a new experience for the travelers of today.