home/experience/Agora Hotel Alliance SDGs Project Win a free accommodation ticket! Agora Again SDGs Gatcha Capsule Plan
2022.12.09
Agora Hotel Alliance SDGs Project Win a free accommodation ticket! Agora Again SDGs Gatcha Capsule Plan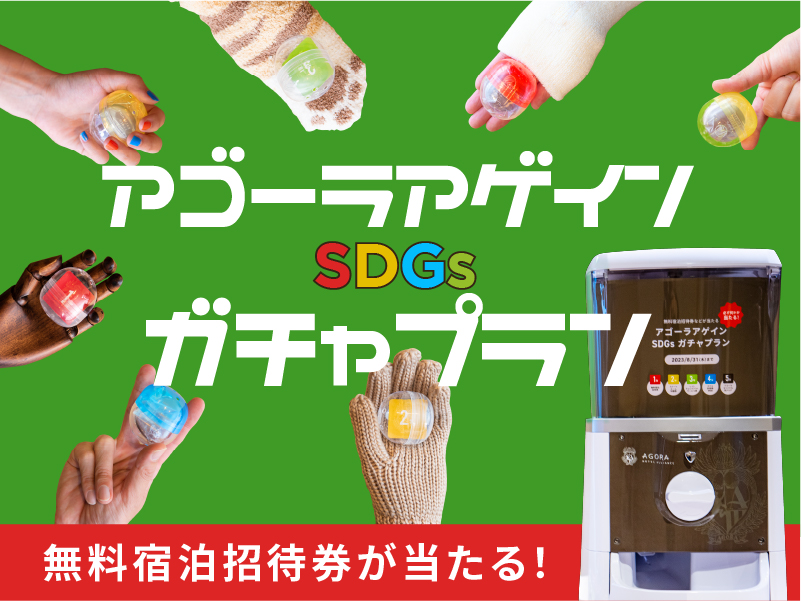 Agora Hotel Alliance is pleased to introduce Agora's first gacha plan, a no-lose gatcha capsule lottery, to win free accommodation tickets to stay at 10 facilities nationwide, discount coupons for next stay, original badges, etc. You are guaranteed to receive Agora's original badges, each one handmade at welfare facilities to contribute to SDGs. (Only reservations through the official website) Please enjoy your trip and stay with us to participate in the SDGs, such as sustainable community development and social contribution.


<Plan Period>
Nobember 11, 2022 to August 31, 2023
*Blackout dates: December 28, 2022 to January 4, 2023, April 28, 2023 to May 6, 2023, August 10, 2023 to August 14, 2023.

<Benefits>
The following prizes will be awarded:
1st Prize: Free accommodation ticket for next stay
2nd Prize: Half-price suite ticket for next stay
3rd Prize: Late check-out service coupon for next stay
4th Prize: 500 yen discount coupon for next stay
5th Prize: Agora Hotel Alliance original badge
Guests who make reservations through the official website will receive an Agora Hotel Alliance original badge.

<Prices>
Subject to each facility and room type.

<How to reserve>
Reservations can be made through the following link.

<Paticipating facilities>
Agora Hotel Alliance group hotels (10 facilities)
For details, please check the link below.


IMAISO
Agora Place Osaka Namba

*This plan cannot be combined with other discounts.
*Please note that this plan may not be applicable for some dates depending on availability.
*For plan details, please visit the official website of each alliance.


Book Now 〉〉